7 Day Liver & Gallbladder Master Clean
Feel great with Suzanna's Naturopath formulated Liver and Gallbladder Master Cleanse. Experience more energy, better sleep, lose weight easier and experience a stronger immune system, happier hormones, better digestion, healthy cholesterol, better eye sight and healthier skin. Read below for more information.
Description
Cleanse, rejuvenate and heal your Liver and Gallbladder with Suzanna, registered Australian Naturopath and Herbalist of 8 years. Suzanna has been helping women and men around the world in healing, soothing, and restoring their digestive system with her popular detox cleanses, programs, recipes, and blogs.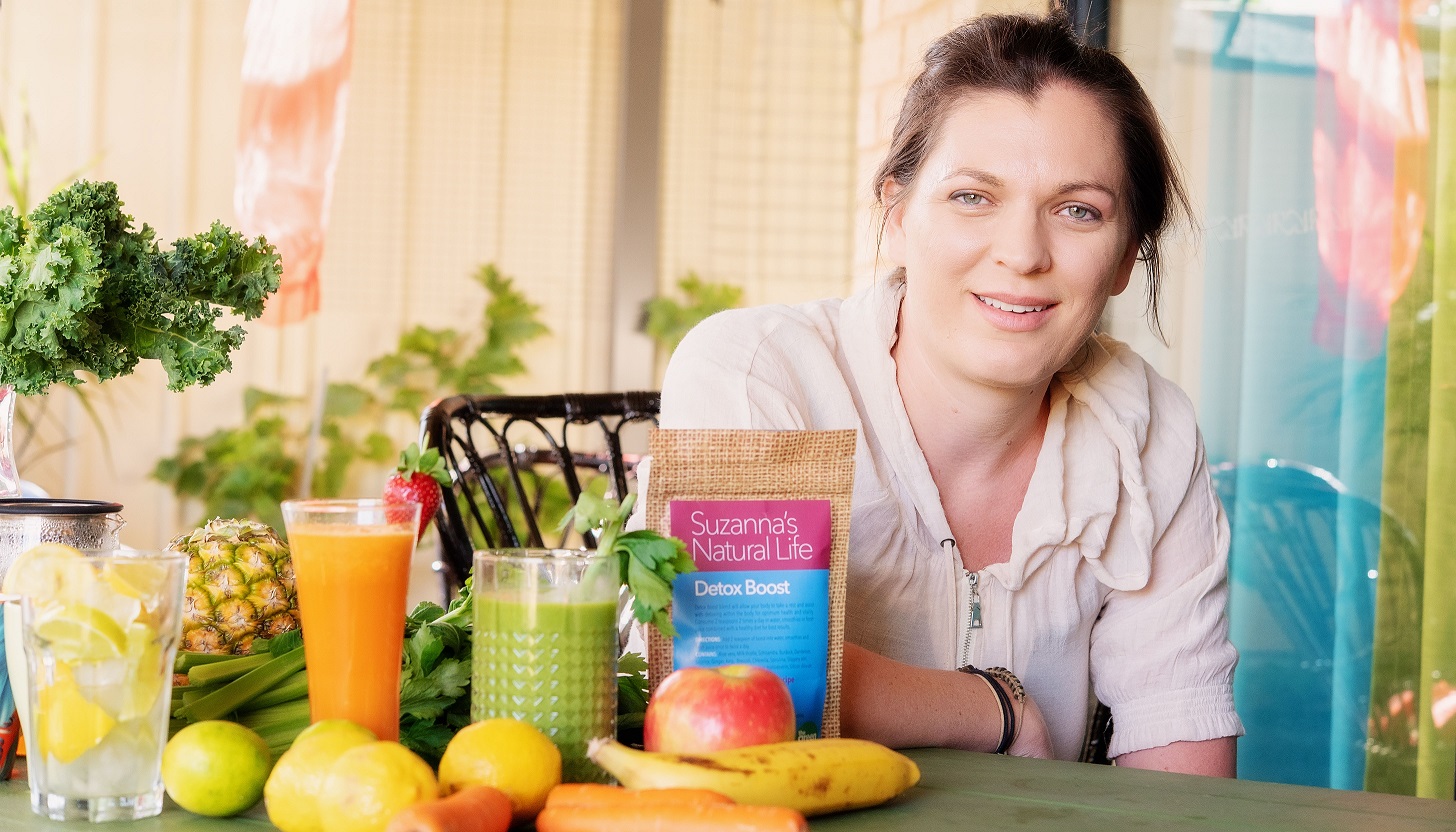 What you will get in this Liver & Gallbladder detox health pack:
100mL custom made limited Liver & Gallbladder Detox Herbal tonic

1 x PDF sent to you a week prior to detox with simple, easy to follow vegan medicinal liver and gallbladder recipes, foods, and shopping lists.
PLUS BONUS FREE
Bonus 3-day Gallbladder flush detox guide

Herbal stainless steel tea infuser

Herbal tonic measuring cup
Detox Boost, Tea, and Tonic

The ultimate detox pack with medicinal organic Australian grown herbs to assist with the elimination processes in the organs for optimum health and vitality while giving support to your digestive system.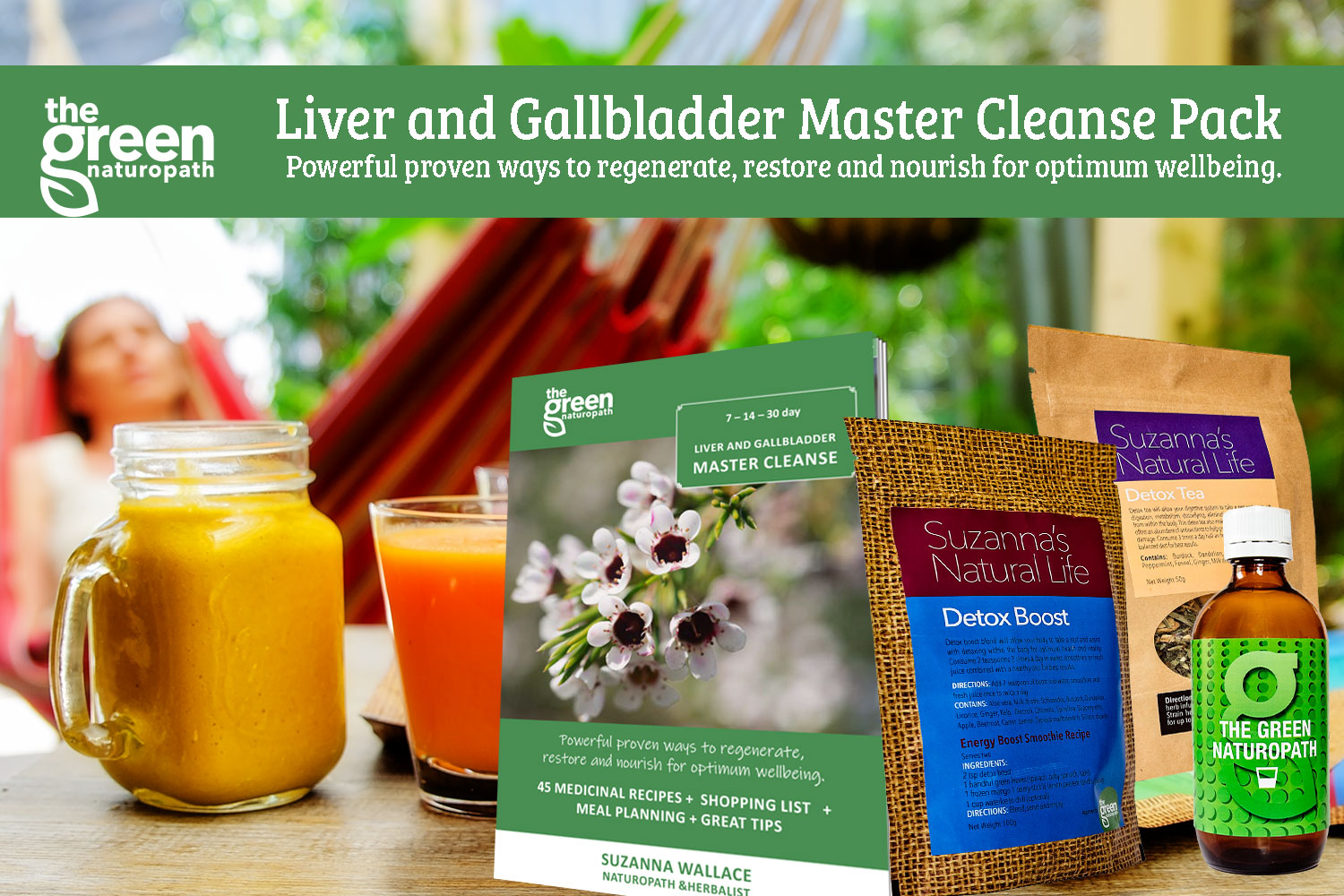 What will you experience with a rejuvenated liver and Gallbladder?

Feel better physically
Physically when our liver and gallbladder are sluggish we can experience nausea, belching, weight loss issues, PMS, digestive issues, bitter taste in the mouth, jaundice, muscle spasms, cracked nails, blurred vision, insomnia, vertigo, exhaustion, high cholesterol, get sick on a regular basis, itchy skin, hay fever is worse, itchy eyes, excess thirst, constipation, IBS, Pain on the right side of the body, low appetite, find it hard to digest fatty foods, eczema, acne, skin issues, body odour and sensitivities to chemicals… This detox health pack is designed to rejuvenate the liver and help heal and soothe digestive issues.
Better emotions
Each organ holds different emotions. The liver and gallbladder are where we hold onto anger and frustration if they are sluggish. When our liver and gallbladder are sluggish, we can experience irritability, outbursts of anger, depression, and a lack of direction in life. When your liver is rejuvenated you can move forward in life with more joy, love, and inner calmness.

FAQ
Can I do the detox if I have had my gallbladder removed?
Yes, you can and I highly recommend the detox as I will be going through the best diet to have when you have had your gallbladder removed. Our gallbladder stores bile and would usually be the organ that helps us break down foods and fats in the small intestine. Without the gallbladder, our bile is released straight into the small intestine. Gallbladder removal can make it more difficult to digest fats and some other foods causing bloating, gas, and diarrhea. Having your gallbladder removed also impacts the absorption of fat-soluble vitamins which include vitamin A, D, E, and K. If you are lacking in these vitamins it can impact your overall health and wellbeing. I will be putting the recommended diet into the pdf along with talking about it in my live Facebook and Zoom feeds in the evenings of the detox.
Will this detox help with my fatty liver disease?
Yes, this detox will assist with mild forms of fatty liver disease, metabolism, and regeneration. The herbs in the herbal tea and boost powder chosen for this detox help protect, restore, and regenerate the liver to function optimally.
What about more serious forms of fatty liver disease?
You may need some further assistance from a Naturopath or Doctor but there is still a lot you can do with my medicinal recipes and herbs. You will gather a lot of great information during the detox and within the community to implement into your life which will help you take the next step forward into your health journey.
What others have had to say about Suzanna's Liver & Gallbladder Detox:
"Suzanna has helped me immensely with improving my health and wellbeing. After suffering from extreme gallbladder attacks for six months Suzanna set up a program consisting of a cleanse and then detox with teas, tonics, and powders. The process was easy to follow and gentle on my stomach. Different cleanses that I tried were very severe on my stomach. I am so relieved after just two months of following this program my attacks stopped. It has now been four months since I have had any pain or attacks. I feel that my gut health is the best it has ever been and anyone who has suffered from gallstones will understand the great relief of no pain and being able to eat a more varied diet. At all times Suzanna was professional as well as considerate of all aspects of my life and made communication easy"
- Zara Hart – Real Estate Agent
"I did Suzanna's liver and gallbladder detox. Earlier in the year, I was diagnosed with an autoimmune disease, as a result, I have felt bloated and feeling terribly tired and heaps of other issues nothing I did was helping me feel any better. After eating Suzanna's recipes for the week and doing the detox my body, lost the bloating feeling and my health was generally feeling great, this week however due to a very busy week I have unfortunately eaten almost everything I shouldn't have and my body feels crap and the bloating feelings back. So my next step Is to make sure I eat better and don't slacken off again, so back to the detoxing for me."
- Beverly Patterson
"We are loving this carrot cake porridge! My 3-year-old inhales it! Who knew a detox could be so tasty? "
- Tatiana Dalin
"Day 6 for me today Before I started this detox I was worried I wouldn't be able to stick to it. I was wrong it has been easy all of the recipes I have tried so far have been so tasty and I have never felt hungry. Well done Suzanna its easy to see you have put so much time and effort into this you should be proud. Thank you for your support and for inspiring us to better our health and wellbeing. I had the carrot cake porridge this morning and last night leftover mushroom risotto with asparagus it was delicious."
- Natasha Beard
Book in for a complimentary Naturopath consultation if you would like some further guidance:Schedule Appointment
(currently not available in the US, UK and Canada)
DISCLAIMER
Check with your health practitioner to work through health issues that require practitioner assistance. Be sure to check if a liver and gallbladder detox is suitable for you if you are pregnant or trying to fall pregnant, on medication, and/or dealing with complex health issues. If you have any unexplained symptoms please check with your Doctor or Specialist. Contact the Green Naturopath for further information.