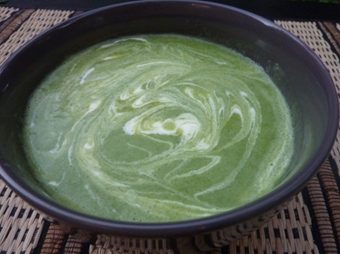 Serves 4
This broccoli and leek soup is one that will keep you warm on the inside and will help strengthen your immune, lungs and digestive system, making this soup perfect for the cooler months.
Ingredients:
600grams of broccoli cut into florets
1 leek sliced into chunks
2 garlic cloves
400grams of sweet potato
6 cups of vegetable stock
2 tbsp. Coconut oil
Coconut cream
Directions:
Place coconut oil in pot and sautee the broccoli, leek, garlic cloves and sweet potato for 5 minutes stirring occasionally to prevent burning and sticking.
Add vegetable stock and bring to the boil reducing to a simmer for 30 to 60 minutes.
Take off the stove and blend all the ingredients together in a blender.
Mix in coconut cream to give a creamy texture.
This soup is great served straight away or will easily store in the fridge for up to 3 days. Nice frozen and re heated for a lazy night.
Serve with wholemeal bread (Optional).
Enjoy