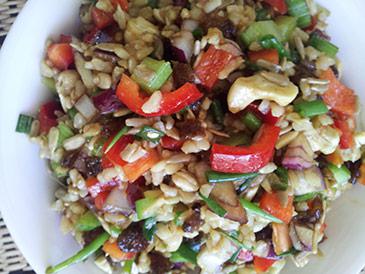 This is a nice rice salad that will last in the fridge for a few days. I like adding it with my green leafy salads.
Ingredients:
1 cups uncooked brown rice
3 spring onions finely chopped
1 Red capsicum seeded and diced.
2 celery stalks diced
1 small red onion diced
1/4 a cup raisins
1/2 a cup of cashews chopped or crushed
½ a cup of sunflower seeds
2 Tablespoons of chopped parsley
Dressing
1/2 cup of cold pressed extra virgin olive oil
2 Tablespoons Tamarri sauce (read notes)
1 Tablespoon lemon juice
1 tbsp. teaspoons of maple or brown rice syrup
2 clove garlic crushed or finely chopped
1 tsp of grated fresh ginger
Directions:
Prepare and cook the brown rice, by bringing a saucepan of water to boil and adding the brown rice for 15-20 minutes until rice is cooked. Rinse the rice and set aside to cool.
Meanwhile in a large serving salad bowl add the spring onions, red capsicum, celery, red onion, raisins, cashews, sunflower seeds, and parsley.
In a separate bowl mix all the dressing ingredients together and then put with the salad.
Once the rice had cooled add the rice to the salad and dressing then mix to combine all the flavours.
Notes
Tamari
Tamari is similar to soy sauce and made from soybeans. Tamari is traditionally used with Japanese cooking and gives a smoother fresher taste then soy sauce. Soy sauce generally is higher in salt, sugars and gluten. Tamari is a great alternative if avoiding gluten (Make sure you check on the label for gluten free if gluten free is required) Tamari can be found in most health food sections of supermarkets. Soy sauce can be used in place of tamari if that is all that is available. Try looking for non gm products when choosing your soy sauce or tamari.