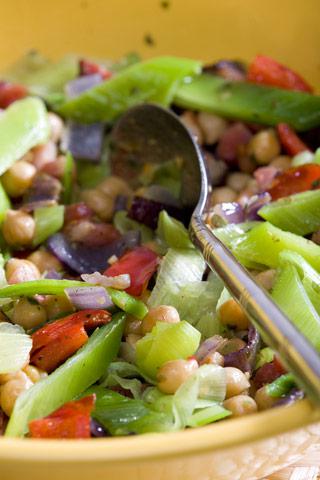 This is a quick healthy and filling lunch, dinner or side with a good balance of protein, carbohydrates, fibre and digestive support to leave you feeling energised and satisfied.
Ingredients:
2 celery stalks
1 Lebanese Cucumber
½ red salad onion
1 red capsicum
1 avocado
1 handful of coriander
400g can of organic chickpea (rinsed)
1 tbsp. Balsamic vinegar
1 tbsp. Fresh lemon juice
1 tbsp. Extra virgin olive oil
Cracked black pepper (Ground freshly on top of salad to taste)
Directions:
Dice the celery, cucumber, onion, avocado capsicum and chickpeas into a bowl with the chickpeas.
Add the Balsamic vinegar, lemon, extra virgin olive oil and cracked black pepper to the mixture.
Stir all the ingredients together to combine well.