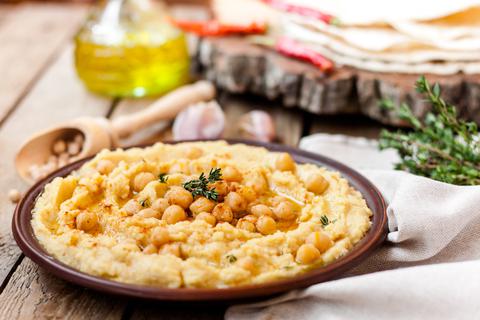 Hummus is nutritionally balanced and great added to just about anything. Great for vegetable sticks, crackers, as a spread on bread or wraps, mixed with your main meal as extra flavour.
Ingredients:
2 cups of chickpeas (read notes)
3 garlic cloves
1 teaspoon of ground cumin
2 tablespoons of tahini (read notes)
2 tablespoons of fresh lemon juice
100mls of cold pressed extra virgin olive oil
Pinch of sea salt
Directions:
Place all the ingredients in a food processor and process until all the ingredients are mixed into a smooth consistency. You may add a little filtered water to the mixture if the consistency is too thick. If you would like some more tang to your Hummus add a little more lemon.
Put Hummus in a container and use within a 3-4 days.
Notes
Chickpeas
You can use a can of chickpeas for this recipe if you are limited on time and haven't prepared any chickpeas. I prefer to prepare my own chickpeas 12 hours before if I have the time. Buy some organic dried chickpeas if possible and soak in a glass bowl covered with filtered water for 8 hours. I change the water a couple of times in the 8 hours if I am around. Soaking the chickpeas breaks down the enzyme inhibiters which make for easier digestion, changing the water a couple of times assists in breaking down the enzyme inhibiters even more. After 8 hours bring a saucepan of water to boil, rinse the chickpeas and add to water. Reduce the boiling water with the chickpeas to a simmer for about 1 hour until the chickpeas are soft. Chickpeas are ready for your recipe.
Tahini
Tahini is grounded up sesame seeds and a great source of calcium, B vitamins and Essential Fatty Acids. You can find Tahini in most health food shops and some larger super markets have started selling it in their health food section. You can buy hulled or unhulled tahini. In this recipe I have used unhulled tahini. Both hulled or unhulled tahini are great to use, although unhulled tahini contains more nutrients as the whole seed has been used.